Every day, faculty design experiences to help our students hone their strengths and become their best selves. Brookwood's signature Steep Week is a shining example of innovative program, one of our strategic planning themes, where students are immersed in meaningful experiential work that speaks to their personal passions. Last week, Upper School students dove into 12 dynamic experiences that ranged from a cultural exploration of Mexico to dissecting sharks at a field research lab on the Cape. I wanted to give you a peek into several of these inspiring programs to see what exciting work is happening at Brookwood!
I learned how to take risks in something that might have made me uncomfortable and I learned to be creative with the materials around me.Student: Ali C.
The Fit Trail group designed and built our very own campus fit trail to make wellness more accessible to our community. From choosing the elements, to sourcing materials, to building and installing the course around the turf, they transformed our campus through a variety of physical challenges and inspired exercise for kids and adults alike.
Fish Fraud Forensics folks shined a light on how consumers are being taken advantage of at local restaurants. Commonly, very expensive and highly desired fish are being swapped for cheaper species, and no one's the wiser. Our student scientists learned how to be changemakers in the North Shore community by using DNA technology to prevent the crime of fish fraud from undermining the local fishing industry.
Beat the Odds students took a metacognitive approach to personal agency by exploring how emotions intersect with probability and numbers and impact our ability to make decisions. Students worked with an investment broker, an oncology nurse and a professional poker player to better understand uncertainty and how to be adaptable when the odds aren't in their favor.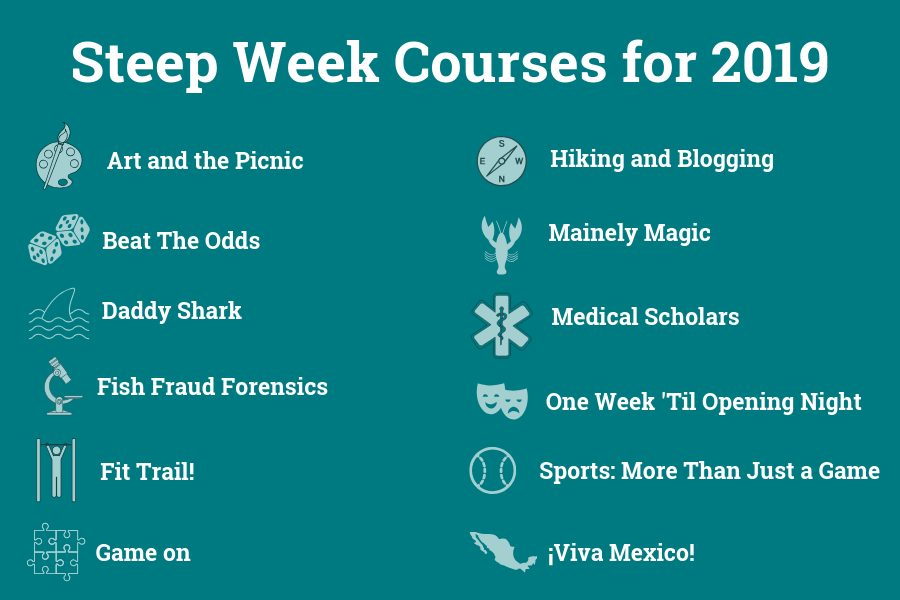 Teaching and learning is at its best when it moves from the confines of the classroom into the real world. From the collaboration that comes from relationships developed in immersive experiences to the deep learning that occurs when students dive into an interdisciplinary study and stretch beyond the comfort zones of their daily routines, Steep Week is unmatched for its learning potential and impact on our Upper School students!
I got to expand my knowledge and see a new place. This was a great way to learn about and see sharks in their habitat rather than just in books in a classroom.Student: Jack P.